Howdy? 🤠 It's Dilailah once again! You might remember me from the Character Concepts developer diary, where we discussed creating captivating characters. Well, I'm back to introduce you to the spellcaster heroes of Mayhem Brawler II: Best of Both Worlds. Get ready to be amazed by their magical powers and engaging personalities. 🧙‍♂️ WOOSH! 💫
Bringing Spectral Blast Into A Fistfight
I've always been a safe kind of player in every game. No matter the genre, I choose to play with a mage character if I can because I like to support my teammates without diving into the action myself. However, that approach doesn't quite cut it in beat 'em ups. Have to get your hands dirty! You know, you have to beat 'em up.
But fear not! Our spellcasters in Mayhem Brawler II: Best of Both Worlds possess an enchanting blend of magical prowess and physical combat skills. Our spellcasters can defend themselves in every physical matter—with the sparkly flavor of magic! With some special tricks and feats that I'm allowed to spoil only a few, they introduce an element of strategic depth to the gameplay, which means many fun combos and unique playstyles! Not to mention that they will make the game more radiant and colorful. ✨
We are pleased to welcome "Wishmaster" from the past and "Enchantress" from the present. For more information on the different timelines in the sequel, please see our previous Dev Diaries.
Mayhem Brawler II: Best of Both Worlds - Dev Diaries
Past Spellcaster: Damien "Wishmaster" Walters
It's hard to believe that almost a year has passed since I began my journey with Hero Concept. This super cool guy was my first character design for the Mayhem universe. Design-wise, he is, so far, the most detailed character we have and probably will be the hardest one to animate. It took days to even decide on his color palette. But! Even after dozens of other characters designed for the sequel, Wishmaster is still among my top 5 favorites. I can't wait to hear your reactions.
In the first game, you neither heard of his name nor his connection to the story. YET. Our fearless leader says that Wishmaster is the founder of Codex Entertainment, therefore, the person who brought esoteric magic to the popular culture of the Mayhem universe. Just bear with us; his lore is deeper than you think. 👀
One of the aspects that truly resonates with me about Wishmaster is how incredibly well he aligns with my preferred playstyle. I'm a big fan of utilizing weapons in beat 'em ups, and I mean lots of weapons! I always bring all the weapons I find to the next stage. I'm sure many of you can relate to this as well. So, I bet you'll like it when you find out that Wishmaster will be maxing out the benefits you could get from a weaponist playstyle… Because, as a spellcaster, he can carry multiple weapons at once with his magical ability!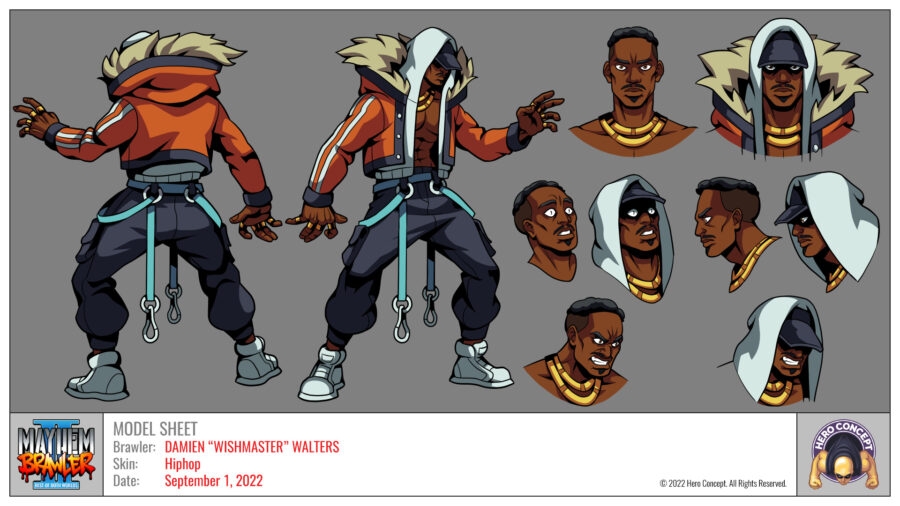 Present Spellcaster: Korsi'vain A.K.A. Enchantress
If I had to confess, I would say that Enchantress has a more important place in me than any other Mayhem character. I find her design the most original among other heroes, and simple & vibrant color palettes like hers are an aesthetic I like to use on my personal drawings. Not only that, but she also carries a tiny bit of "me" in her design. It's the little weirdo eye makeup I like to use; I had it on my first day at Hero Concept. 👁️
I know you guys hated playing against Enchantress in Mayhem Brawler when she was a boss. I took the Voivoda route most of the time I played because mejins are a complete pain in the butt. Teleport is quite a jerk move if you ask me. What about Enchantress' giant spectral hand? No thanks. Or is it..? Well, that's the enemy's problem now, as we keep all those unnerving skills on our adorable mejin queen, now playable! And yes, by unnerving, I mean the infamous ranged grapple and teleportation!
Every question you may have about the story of Mayhem Brawler will be answered in the sequel. Don't let your interest slip, my friends, because Wishmaster and Enchantress will show you something massive! 🙊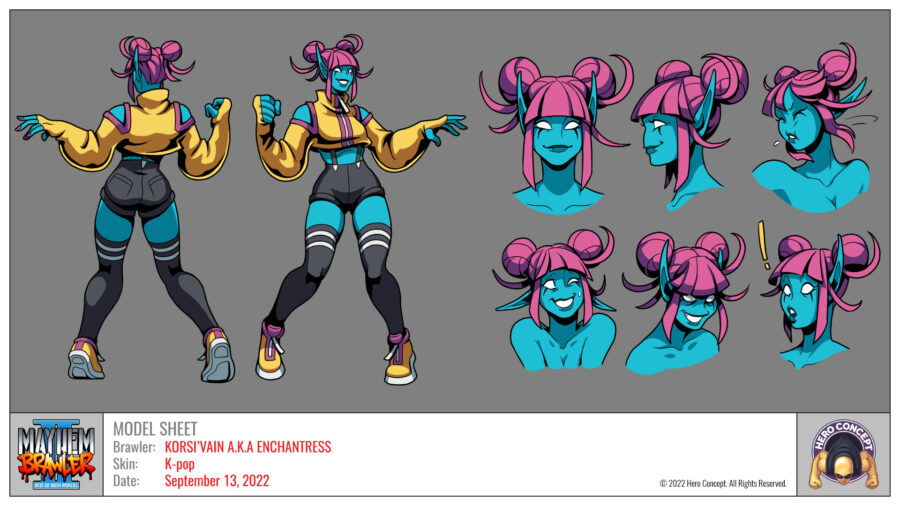 Let's Meet 'Em Up!
We've been working hard on the demo, and we all hope to meet you at this year's Mobidictum (September 5-6) and Gaming Istanbul (September 22-24). Come to show your support & be the first to test our game. 😊
Also, join our Discord community server to hear first about the updates & share your suggestions with us!
— Dilailah, fellow Concept Artist