Hello there! My name is Dilailah Beste Kuzu and I am the Character Concept Artist at Hero Concept. In this new Developer Diary, we will talk about the super fun, yet fairly challenging process of character concepts.
Who is Dilailah?
I'm a 23-year-old self-taught 2D character artist who worked for several years as a freelance illustrator before I met Hero Concept. I'm such an indie game geek and a huge admirer of cartoons and animations, especially Disney, which influenced me a lot in finding my very own art style. Working as a character designer has been my dream job and I'm so glad that I achieved it so soon. Now, it's been almost half a year since I became a part of the Hero Concept crew and it's very exciting to be able to witness how much our game progressed in such a short period of time!
Adaptation Period
I must admit that my adaptation period wasn't easy. The game already had its unique art style before I joined the developer's team, and being a stylized artist it didn't really help me there. It's pretty difficult to abandon old habits, and I'm obviously still improving, but at the end of the day, I'm happy to be able to leave a mark on this project. It taught me a lot in less than half a year. I'm still publishing personal artworks on social media, but now that I realize even my own art has slight influences of "Hero Concept" in them. For demonstration, here's a comparison of some Stellar portraits in Hero Concept style and in my style.
Artstyle isn't the only obstacle I've encountered though. The constructed anatomy and proportions for Mayhem Brawler II characters are pretty much diverse from what I'm used to drawing. I really like exaggerated proportions, cartoony body language, and distorted anatomy in order to highlight the expression. Here in this project, however, it's more "comic book" than "cartoon", so that was a bit of a challenge for me. But hey! I'm doing my best and the crew likes my work, so that's a score!
"Were You Rushing or Were You Dragging?"
When you fail to empathize with the idea, the creative process can decelerate and become very stressful. To speak for myself, when I realize that I'm somewhat working slower than I used to do, I tend to rush things and I think it drastically reduces the quality and potential of the concept. That's because in a small studio like this, when one single cog dragging may result in disrupting the whole development process, and because of that, you don't really have the chance to "take your time".
There were times –mostly in my first few months– that I couldn't nail a rather simple posture, wrinkles on a cloth, or sometimes even a face; which resulted in many hours of tries and corresponding demotivation for me. So honestly, I thought a few times that I was not suitable for a design job. Well, I do still have occasional difficulties with stylization and anatomy, but now at least I'm sure this is exactly the job that I would like to pursue. 🙂
Recycling Old Character Concepts
As you know by now, what we've been working on for over a year is the sequel to Mayhem Brawler. Surely with way better-looking graphics and cooler characters! You will notice that some of the characters are based on designs that were formerly used in Mayhem Brawler. So what I basically do is study the previous concept, make it look more appealing, then adapt it into our new art style; and that's what we call 'recycling the design'. I'm dropping you a few examples so you tell the difference–and hopefully the improvement!
For some of you who may not have heard about it, the sequel game is going to take place in two different timelines. That means you will be also seeing some bosses of Mayhem Brawler once again in Mayhem Brawler II. Come to mention it, beware of the young and handsome Chainado!
Does that mean we don't have any actual original characters? Why, of course, we do! There are a total of 50 characters in Mayhem Brawler II: Best of Both Worlds, half of them are unique and brand-new! Moreover, we have 8 playable heroes this time, 5 of which I also worked in. Stay tuned for the future developer diaries for more character concepts, you'll meet them soon!
All in a Day's Work
We all want one thing: to make our game look as good as in our minds. We're more than a developer team, we are also friends that share a dream. And we do as best as we possibly can in order to serve you quality content. Of course, we don't forget to have fun on the way!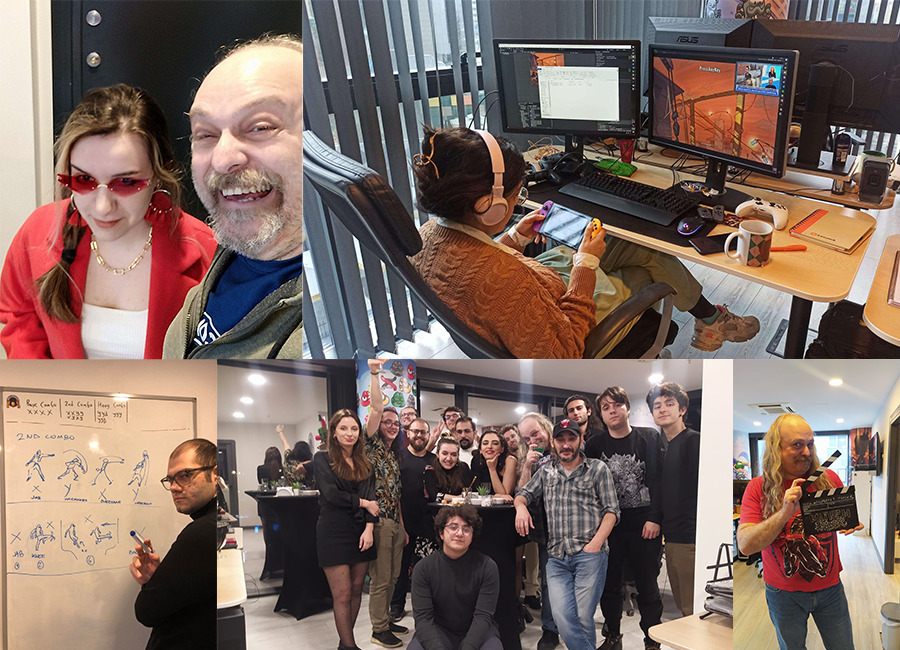 Speaking of fun, we'll have a few surprises for you in the upcoming weeks. Follow us on social media to find them out. Oh, and don't forget to check out our previous diaries if you haven't already!
See you until then, Officer!