If you've been following the latest news about Mayhem Brawler, you've probably heard that we've been working on a sequel for months. I believe it's high time to make a pseudo-announcement about what the team has been up to up until this point. Now hold on to your horses! Drum roll, please. I am pleased to announce that: Mayhem Brawler II: Best of Both Worlds is in development!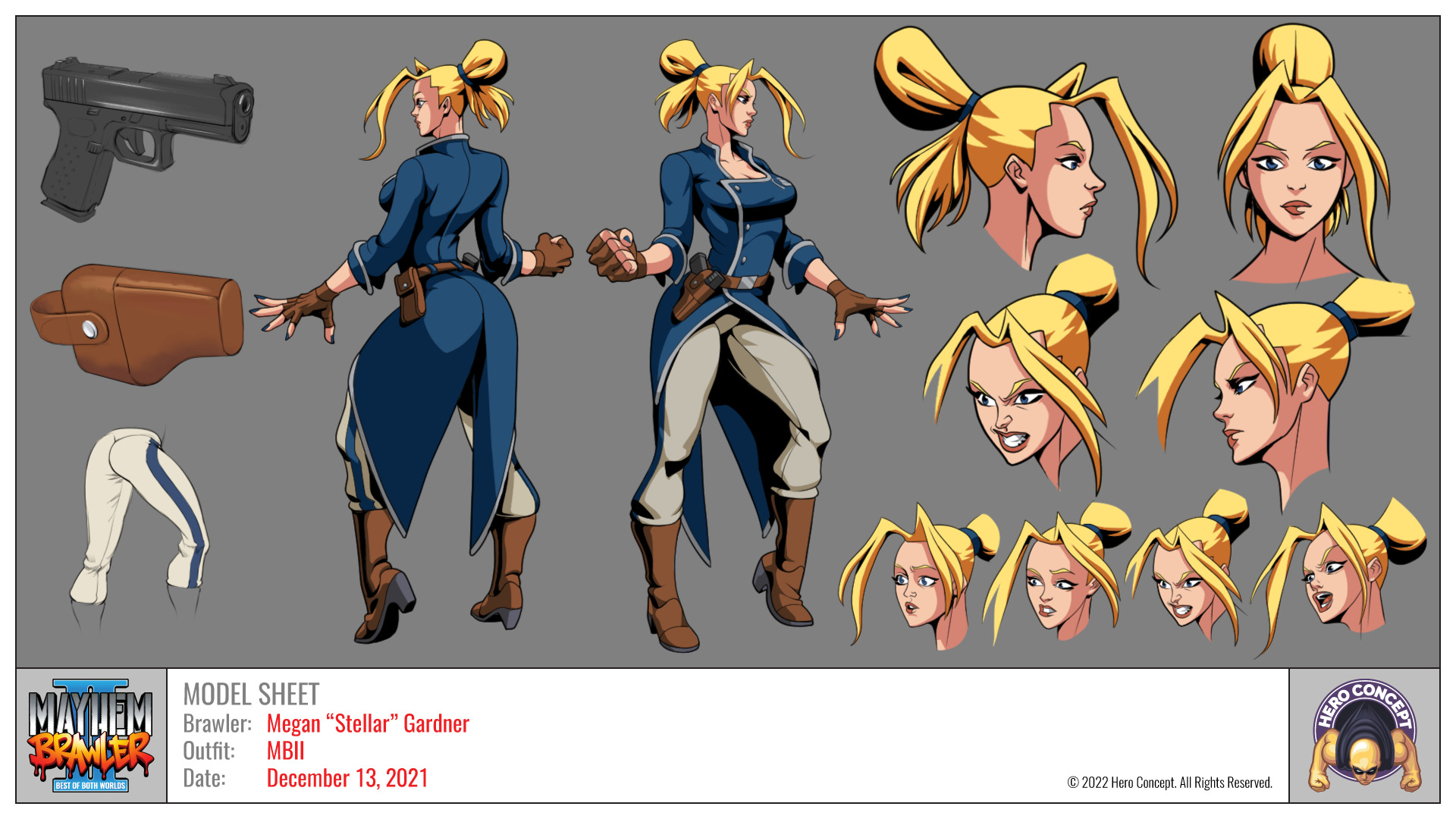 Just Another Beat 'em Up?
Indeed, our team is following the footsteps of our latest beat 'em up title and developing a sequel. However, our goal is to create a pivotal game that is inspired by the 90s' but certainly not condemned to the period and can leave its own mark on the history of the genre!
Even though they are sister genres, it's easy to observe that beat 'em ups have become an archaic genre that new generations are not familiar with, while fighting games gained popularity over the years.
I believe this is because the fighting game mechanics kept evolving bravely over the years, while beat 'em up mechanics have remained deadlocked since the late 90s'.
I admit that we are to blame here as well. Yes, we tried a couple of new things in Mayhem Brawler, but I don't think we pushed the limits of the genre too much.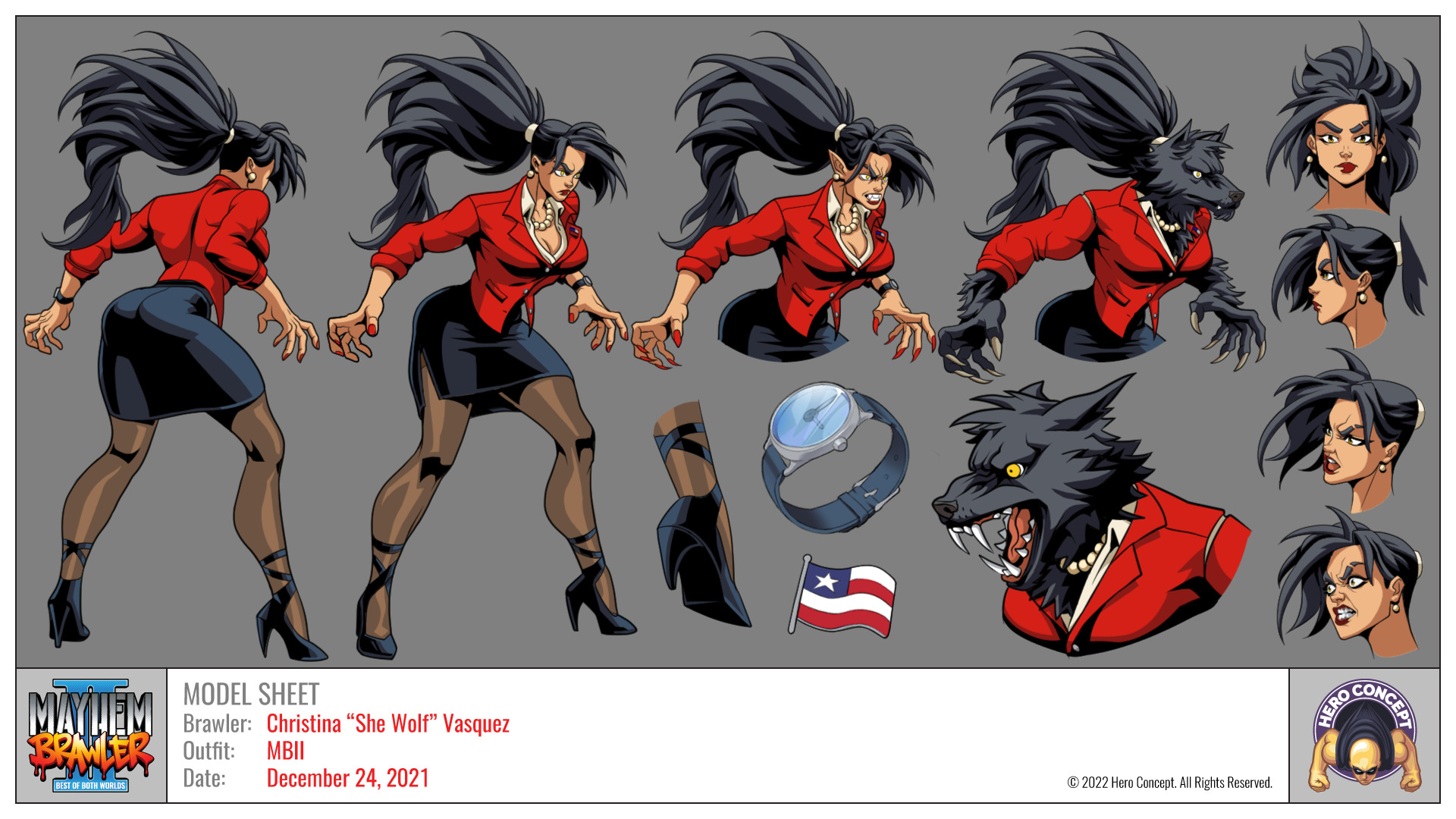 The Two Timelines of Mayhem City
Is this going to be a sequel or a prequel, you ask? Our answer is, why not both! The new adventure will cover the events that developed in-parallel in two different timelines, 20 years apart.
The "Present" will focus on the story of Christina "She Wolf" Vasquez, while the "Past" will focus on Megan "Stellar" Gardner. (Yes, the mother of Grace "Star" Gardner from the first game, the legendary Stronghold officer who gives her life away while defending Mayhem City).
There will be 8 playable characters in total, divided into two groups of 4 in accordance with the timeline they exist in.
I won't be giving any details about how the different timelines will affect the game flow, or which characters will be playable along with She Wolf and Stellar. At least for now.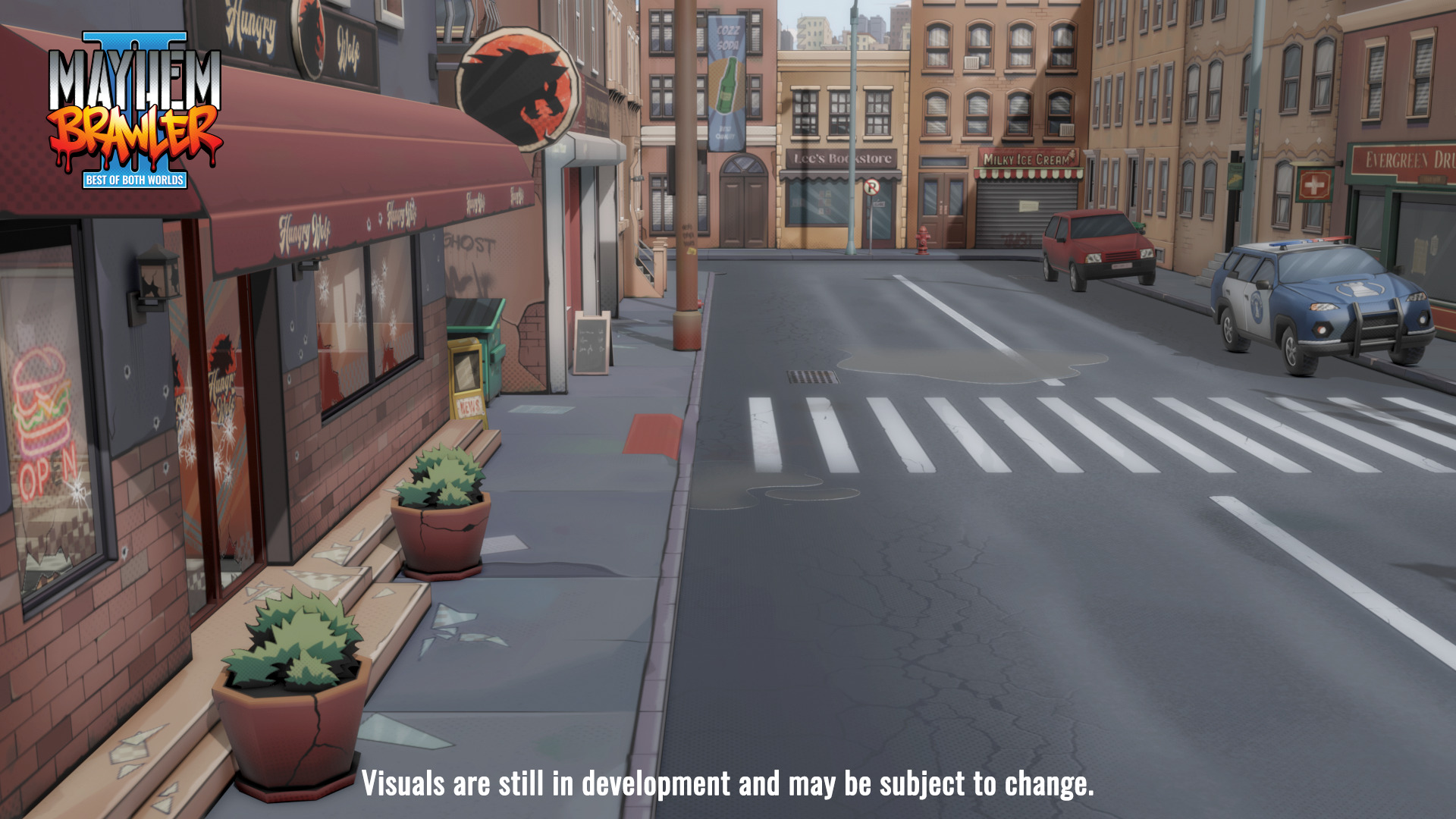 Combat Mechanics
We have released two regular and two major updates to bring the combat mechanics of Mayhem Brawler to their current state. During this process, we have accumulated plenty of experience and new ideas about the genre.
First of all, we're going to preserve mechanics we think we got right in Mayhem Brawler, such as air combos, blocks, and conditions, as we polish them up even further.
We will redesign the combo system, which we think is weak, and implement some features we heard from the community that we couldn't evaluate due to technical reasons in the first game.
Additionally, ensuring each of the 8 playable characters has a unique game plan is among the most important goals we set for ourselves.
The Artistic Approach of Mayhem Brawler: II
The mood of our new game will be darker than its predecessor due to its story (Stellar will die at the end, you know?). And because of this, we have decided to change our art style.
We experimented with different styles for character proportions, stylization, and coloring. At this point, I believe we have not gone too far from the visuality of the first game and found a new, striking style. I genuinely hope that you will like the results as well.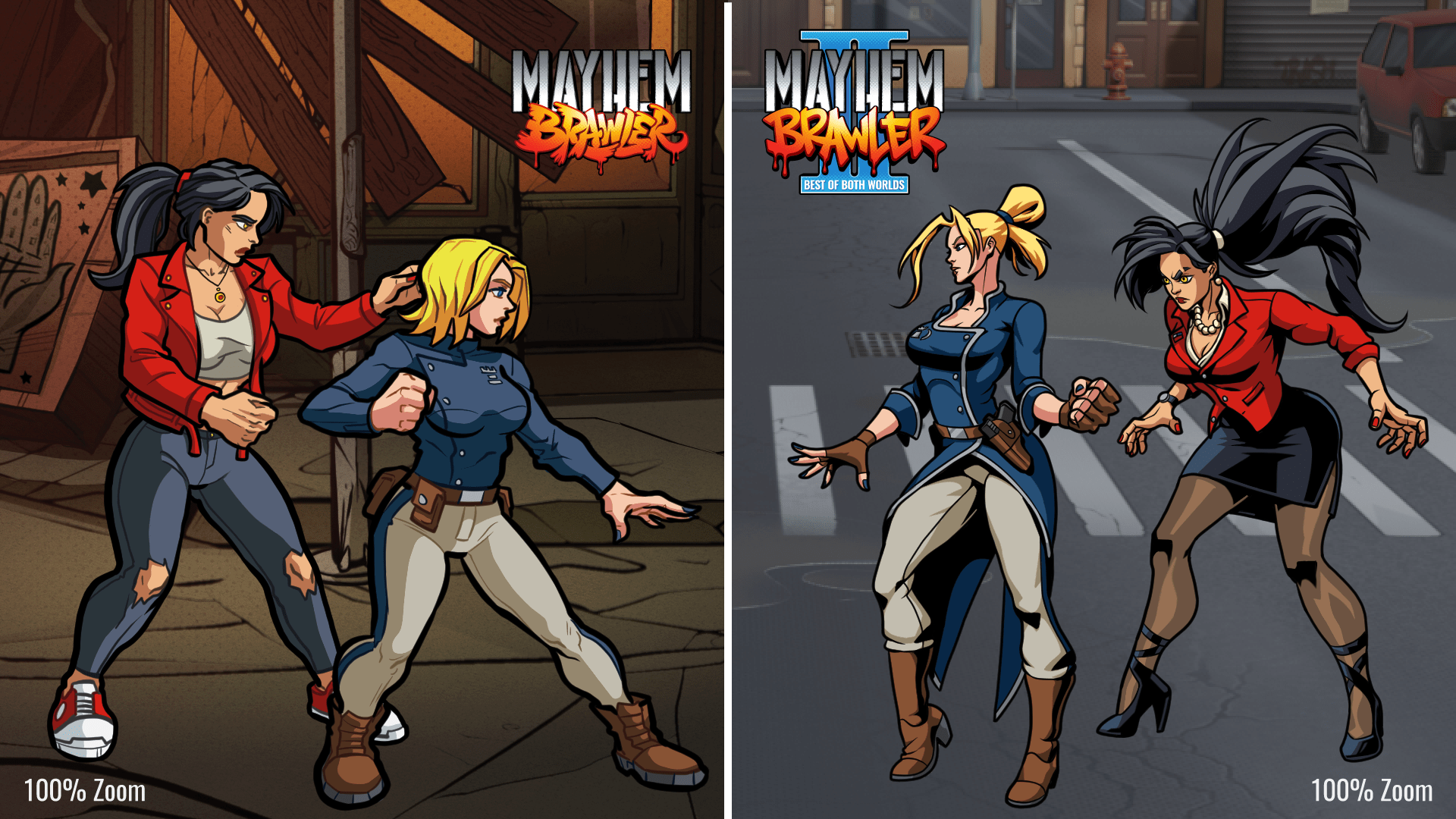 Speaking of new style; our backgrounds will be 2.5D for this title. We believe this approach will thoroughly contribute to the depth perception and combat mechanics of the game while enhancing its visuals. We will certainly do our best to preserve the comic book style visual integrity we achieved in the first game, so fear not.
End Game
End game content is one of the features we care about the most. This time, we have lots of ideas up our sleeves to enhance replayability for Mayhem Brawler: II.
To begin with, I would like to surprise you guys by saying our encounters will be randomly generated, in a roguelite structure. In other words, when you start a new campaign or even restart your current run, you will encounter different enemies in different spawn points. This rule will apply to breakable objects, weapons, and consumables as well.
In addition, upon clearing the game for the first time, players will be able to create their own challenges in hundreds of different combinations with our multiple choice-based difficulty system. Not to mention, there will be dozens of unlockables thanks to this new difficulty approach.
Moreover, we have almost completed the design work on a roguelite RPG-style skill development system connected to NPC interactions called the "Favors".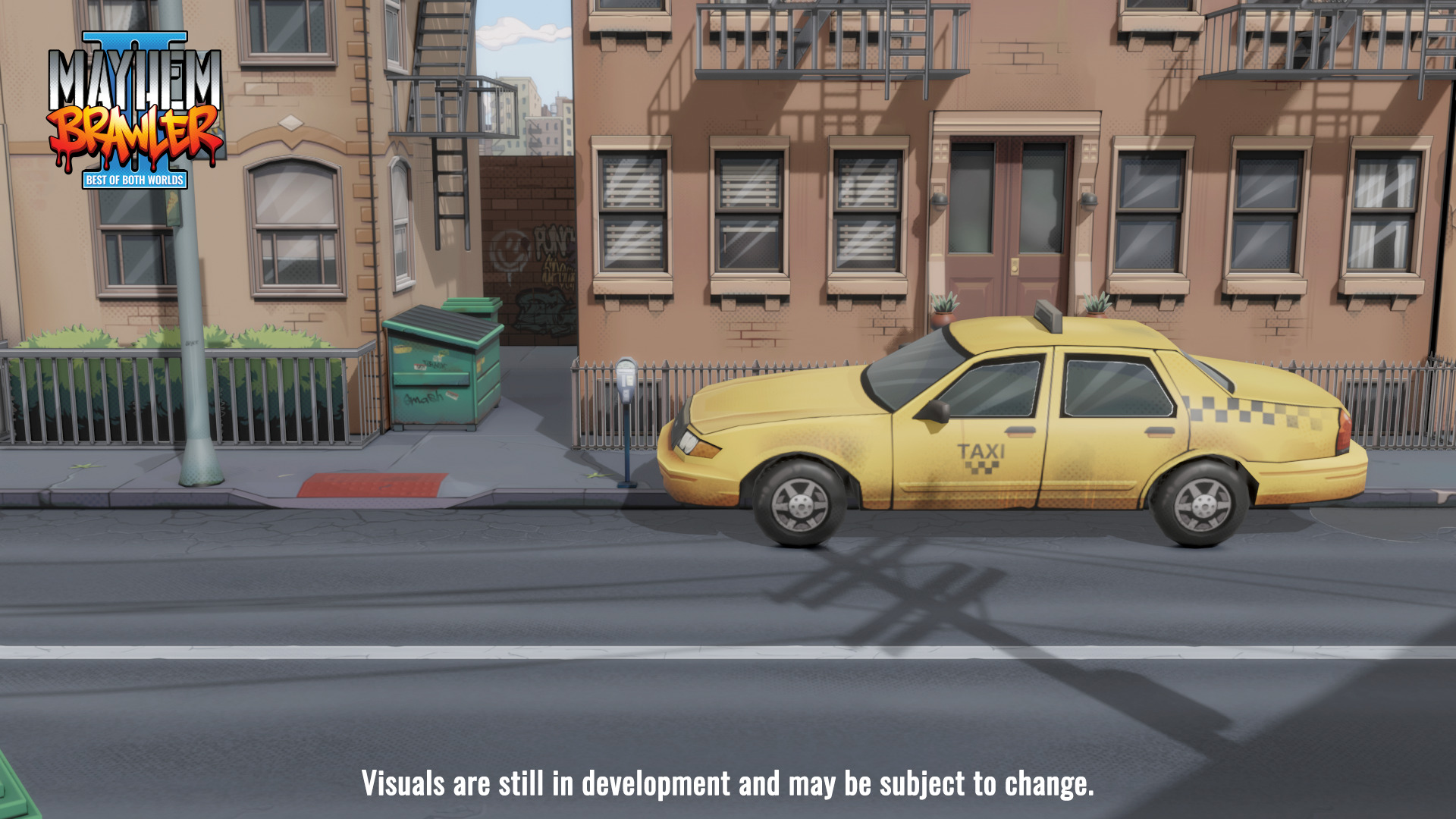 Multiplayer?
We want this title to feature online multiplayer as much as you do. The team is currently in the R&D process regarding this topic.
If we do not experience a major setback or encounter a technical obstacle that we cannot foresee, the game will release with an online multiplayer feature! Keep your fingers crossed!
When?
Well… You may not like to hear this, but it doesn't seem likely that the game will be available before the first quarter of 2024.
But, as we did with Mayhem Brawler, we will do our best to let you experience the sequel on "Xbox Summer Demo Fest" and "Steam Demo Fest" before the official release date.
I can assure you that we will come knocking at your door with a game that is worth the wait!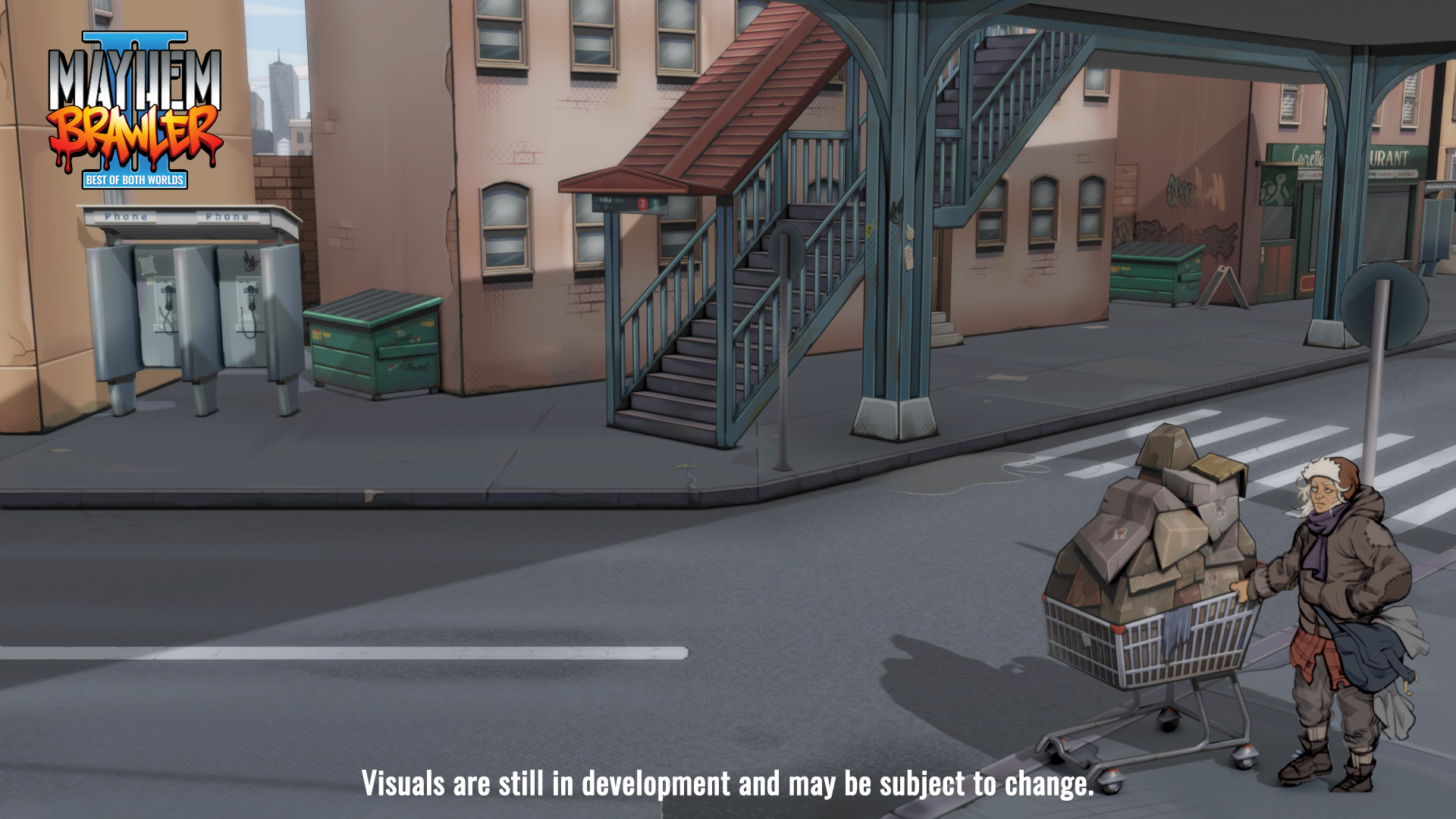 Parting Words
This dev diary was published last week in the first-ever Beat 'em up magazine, Brawler's Alley. If you're a fellow Beat 'em up fan, we highly recommend you take a look at this wonderful magazine completely free of charge!
We will most certainly inform you about the state of the project in the future. There is a lot of stuff we haven't shared with you, and we cannot wait to reveal them!
Finally, please follow our social media accounts if you are not currently following any of them. Your support is a source of morale beyond words for a small team like ours. Be sure to join our Discord channel to get the latest news and become a part of our growing community. Until next time!
— Your friendly neighborhood developer Serkan Özay