Greetings Brawlers. It has been half a year since we have invited you to a Developer Diary and Officers have been patrolling the streets of Mayhem Brawler for almost three months now. Oh, how the time flies. And what did we do in the meantime? We've been working on our promise of course! That's right, a major update for Mayhem Brawler is right around the corner, and today, we would like to talk about the update's development process and what Mayhem Brawler 2.0 Air Supremacy will bring to the table.
A New Beginning
One of the feedback we mostly heard was the fact that Mayhem Brawler was not a combo-heavy game. Our goal was to create a reimagination of the good old belt scroll action games, where we have fonding memories from the arcades. Following that path, we designed Mayhem Brawler to present a more strategic combat experience for players. The key was not to perform extensive combos but to use conditions cleverly and defeat opponents in the correct order.
Understandably, some players preferred more fast-paced combat, due to how the games are designed nowadays. After reading a lot of comments, communicating with brawlers around the world, and a couple of brainstorm sessions in the office, it was time to give players what they desire…
The Air Supremacy
Revamping combat mechanics was our starting phase. We have started changing in-game mechanics and tweaking the numbers to construct an appropriate system for our plans. After enhancing the core mechanics, the implementation of OTG has begun.
Off-the-Ground and Counterattacks
Off-the-ground attacks are moves that can hit enemies who are on the ground. These actions will hurl opponents back in the air, allowing players to stay on the offensive. Naturally, not every strike will affect knocked down enemies, but once you figure them out, it will be possible to defeat opponents even before they have a chance to stand up!
After beating a lot of thugs on the floor, it was time to work on the Counterattack! Oh boy, where do we start? The "Payback" condition sure created intimidating situations for some brawlers. Due to players' desire to keep the offense at the maximum level, enemies with Payback sometimes broke player momentum in action. But now, it is our turn to show them who the boss is!
The concept behind Counterattack is simple; Upon blocking an incoming attack, players will briefly see an indicator that shows the moment where players can execute a counterattack. Pressing the attack button at the right moment will launch enemies in the air, opening combo opportunities for the players. Be cautious; not every attack will be counter-able, such as special attacks or projectile attacks.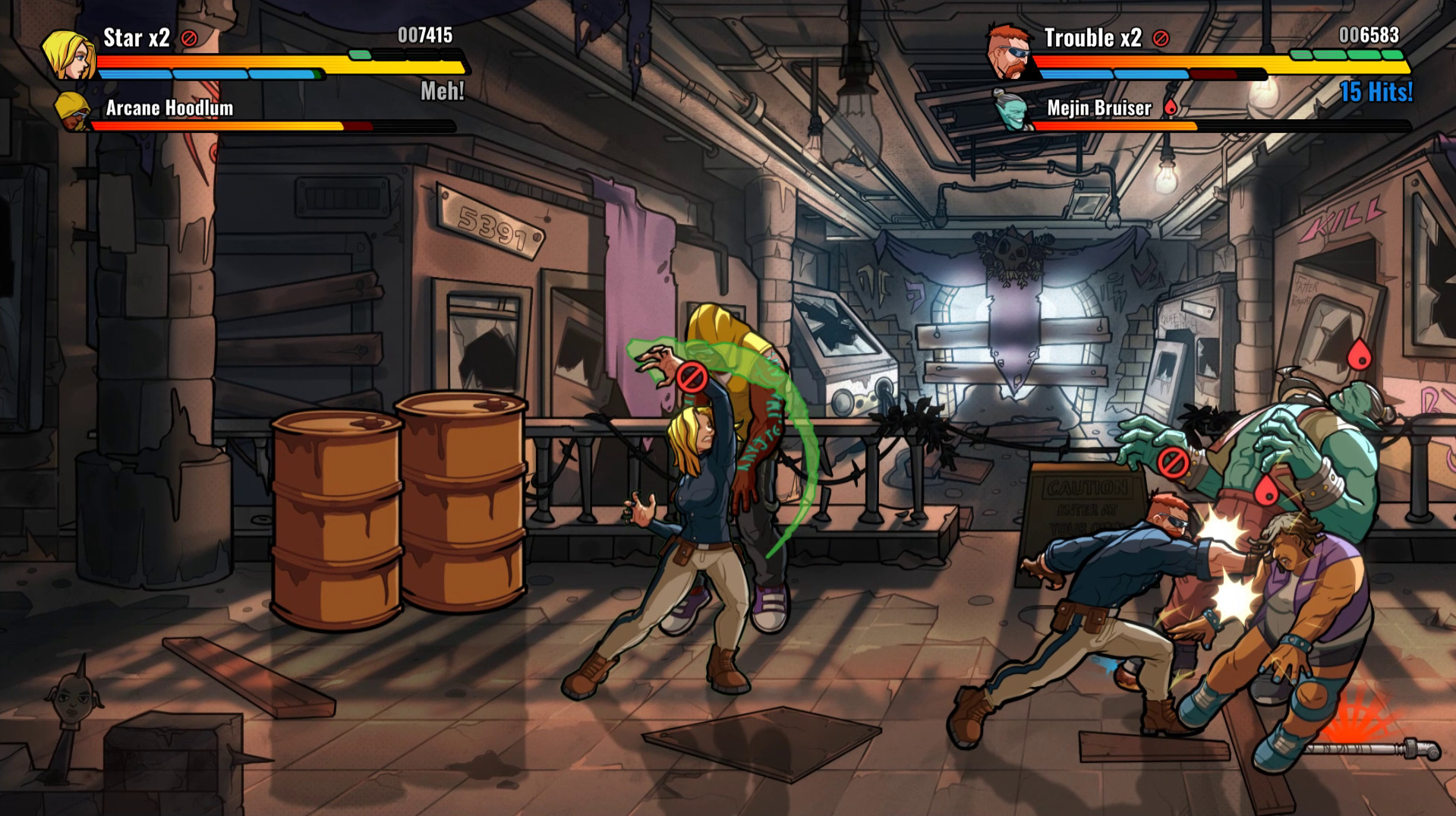 Air Combos and Specials
Speaking of "launching enemies into the air" let us get to the highlight of this update… Air combos and Air Special attacks!
Overhauled combat mechanics provided excellent results, but we knew this was not enough to bring a striking innovation to the game. We wanted to add new attack patterns without breaking the balance. Thus, the idea of aerial attacks crossed our minds!
Air combos are the additions that advance the overall combat experience the most. Finishing your combo does not mean the "end" of it anymore, but the "beginning." By simply pressing the attack button in the air, heroes will perform a three consecutive combo animation.
Furthermore, the new OTG attacks and counterattacks are designed to assist these attacks. Players will not unnecessarily execute them but take advantage of them since they are designed to be an alternative launch option as well. Find the best opening, punish your enemies, and perform marvelous combos!
And if you think air combos are not satisfying enough to land your final blow with, fear not! Heroes got their all-new special attacks to perform! By simply pressing the special button in the air, you will execute a super special move that burns one meter of your power bar. Just like ground specials, these moves will inflict certain condition effects as well. The Air special attacks will put the cherry on top of the end of your combos!
Honestly, Trouble's air special is our new favorite! How did he learn such a bizarre move, you ask? Well, he stumbled across a warrior on one of his patrols and saw him fighting against a Pureblood. Trouble was mesmerized by how the warrior fought and requested to be his pupil after the battle was over. Unfortunately, he couldn't learn everything from his master, due to him wandering around the world to find strong opponents. He has a long way to go to become a Shoto!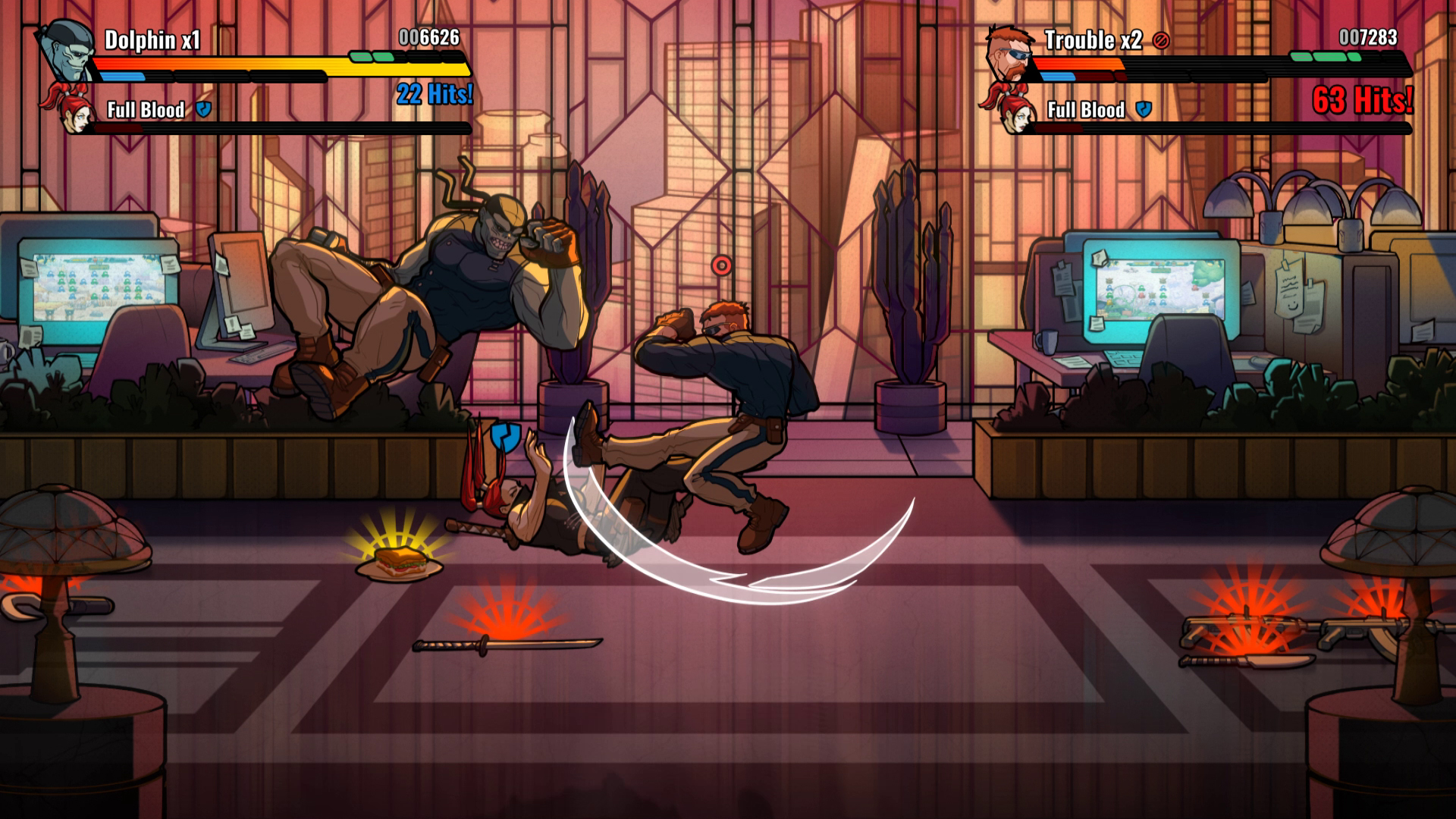 Time Presses!
The 2.0 Air Supremacy update was our promised advancement to brawlers all around the world. We believe these new additions will provide a fluid and mobile action sequences while offering a more fast-phased combat experience.
Thanks to you, we have found the opportunity and bravery to deliver the fierce combat mechanics we dreamed of to the Mayhem Brawler. As Hero Concept, we cannot wait to hear your thoughts and check out your combos as you wreak havoc in the city!
We will be revealing detailed information along with patch notes on release day, so get your sharpies and mark your calendars for November 24th! Don't be shy and join our Mayhem Brawler Discord Channel to be one with our growing community! See you next week, Officers.
-Your friendly neighborhood superhero developers